12th Gen Intel Core™ AI-Enhanced Slim PC Ultra-Visual Upgrades: Four Displays Productivity
Shuttle XPC Slim series DH670 supports Intel® 12th-Gen Alder Lake hybrid architecture which combines high-performance cores along with high-efficiency cores and moreover supports a 65W base power processor with maximum up to 16 cores and 24 threads. With the brand-new Intel® UHD graphic processor integrated, the model can deliver incredible clarity for 4K/60P UHD resolution so as to bring more achievement on AI and computer vision applications. As for its display productivity and flexibility, DH670 supports quad displays via two HDMI 2.0b and two DisplayPort. Despite its 1.3L slim chassis design, DH670 offers multiple interfaces to deliver expandability and connectivity where it matters, including a dual Intel® Gigabit Lan, two RS232, an SD card reader, two M.2 expansion slot, four USB 3.2 Gen2, and four USB 3.2 Gen1 (includes one Type-C). In sum, this stable and efficient DH670 is suitable for wide range of application, such as digital signage and kiosk.



Intel® 12th Gen processor
Based on the latest 10nm architecture and H670 chipset, DH670 is designed for Intel® 12th Gen processors in the LGA1700 socket. The platform supports up to 64GB (32GBx2) of DDR4-3200 memory, leading to increase efficiency and higher multi-threading output, which is about 20% improvement on IPC. Equipped with Intel® UHD Graphics, DH670 is capable of driving content that is fluent and stutter-free in 4K UHD.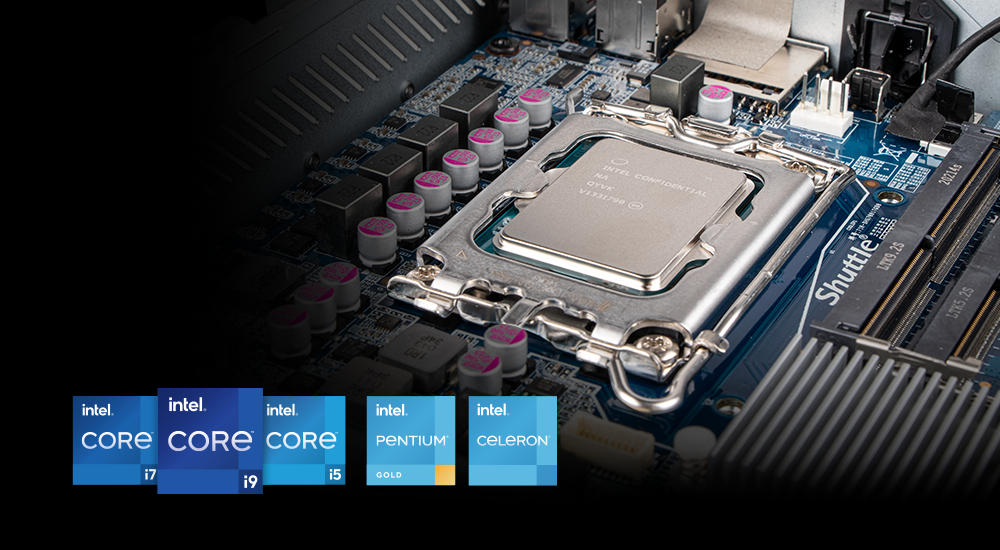 Quad-Display Productivity
With two HDMI 2.0b and two DisplayPort outputs built-in, DH670 supports four independent displays, providing productivity benefits and dynamic visualization for multi-tasking and digital signage applications.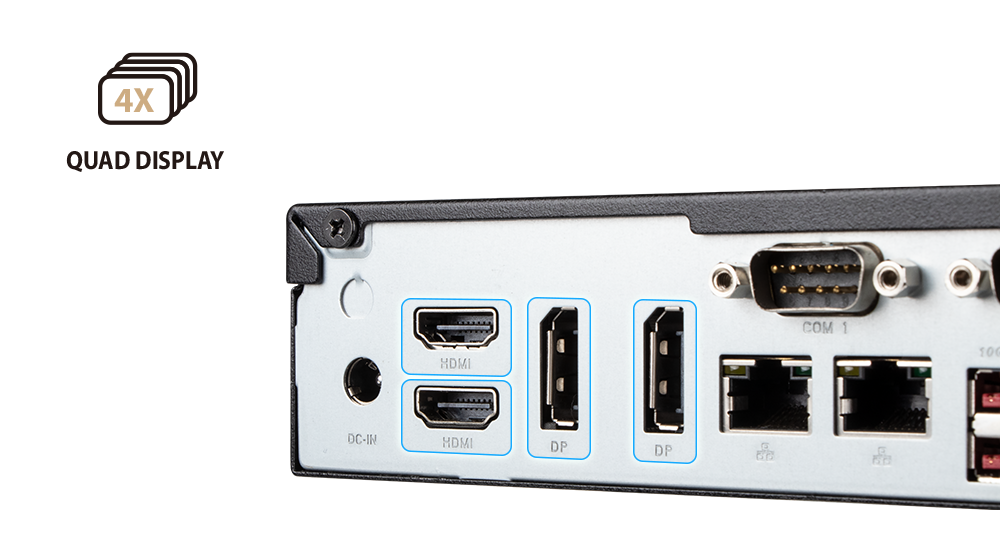 Strong Expansion Capacity with M.2
With a native M.2 2280/2260/2242 Type M slot and a M.2 2230 Type E slot, DH670 offers considerably faster storage performance and expansion capacity for M.2 SSD and Wi-Fi modules.
*M.2 2280 key M supports both SATA and PCIe 4.0 x4 storage interfaces.

Excellent Expandability and Connectivity
DH670 provides four USB 3.2 Gen2, four USB 3.2 Gen1 (including one Type-C), two RS232, and a SD Ver. 3.01 card reader for flexible connectivity options.

High-speed Dual Intel® Gigabit LAN
DH670 is equipped with dual Intel® Gigabit LAN and supports Wake on LAN and Teaming Mode function to provide high-speed data transfer capability and thus a better business networking integration.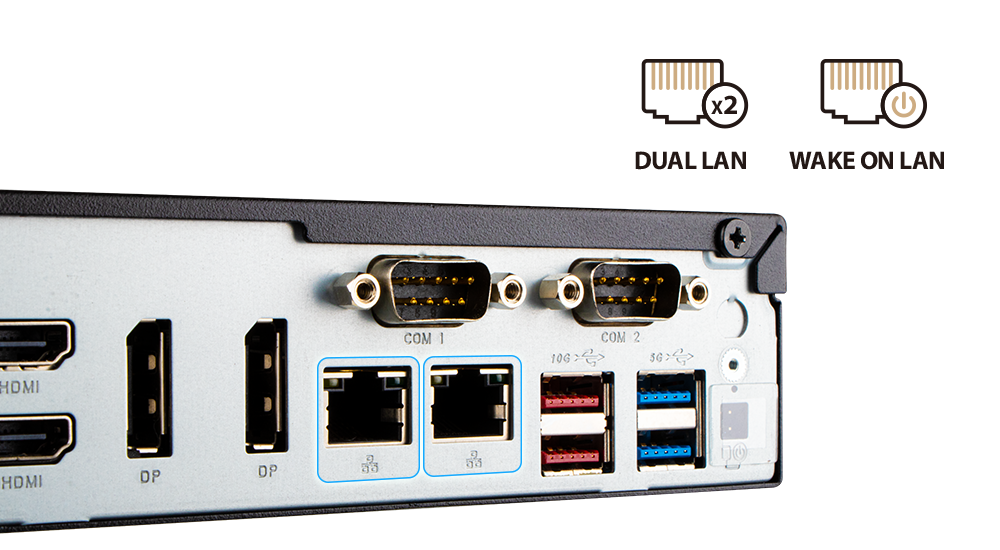 Exclusive Cooling Technology
DH670 features Shuttle's exclusive heat-pipe cooling system with smart fan design. The clever ventilation design allows for constant air circulation between the inside and outside of the machine resulting in high stability and low noise for long-term operation.

Operating System Support
- Windows 11 64bit
- Windows 10 64bit
- Linux




Specifications
FORM FACTOR
1.3L chassis
PROCESSOR
Support Alder lake-s LGA1700 socket Core i3/i5/i7/i9, Pentium, Celeron 65W processor
CHIPSET
Intel H670 Express chipset
MEMORY
2 x DDR4 SODIMM slots,32GB per DIMM (Max 64GB)
DDR4 up to 3200 MHz
VIDEO OUTPUT
HDMI 2.0 x 2+ DisplayPort x 2, Quad video outputs
4K playback (Dual channel memory recommended)
Integrated in CPU
AUDIO
Realtek ALC662/897/888S High Definition Audio
ETHERNET
Intel I210/I211*2 Dual Lan
10Mb/s,100Mb/s,1Gb/s operation
Support Wake-On-LAN function
Support Teaming function
STORAGE INTERFACE
SATA 6.0Gb/s interface
ONBOARD CONNECTORS
(1) 4pin fan connector
(1) VGA(For PVG01 use)
(1) 1x4 pin USB header(For WWN03 use)
(1) SATA connector w/power
(1) Front audio header
(1) Auto power on header
(1) RS232 voltage switch
FRONT PANEL
(2) USB 3.2 Gen1 ports
(Include Type C x1)
(2) USB 3.2 Gen2 ports
(1) Microphone-In
(1) Line-Out
(1) Power-On button
(1) Power LED
(1) HDD LED
(1) SD card reader
BACK PANEL
(2) RJ45 Gigabit LAN port w/LED
(2) HDMI port
(2) Display port
(2) USB 3.2 Gen1 ports
(2) USB 3.2 Gen2 ports
(1) RS232
(1) RS232/RS422/RS485
(1) External 4pin header
(1) DC-in
(2) Wireless Antenna fixture
(1) Kensington lock
DRIVE BAYS
(1) 2.5" HDD / SSD bay

DIMENSIONS
190(L) x 165(W) x 43(H) mm
POWER
120W Power Adapter
Input:100- 240V AC
19V 6.32A
ACCESSORIES
XPC Multilanguage Quick User Guide
XPC DVD Driver
VESA mount
VESA Screw pack
Power cord
Thermal Grease
HDD Screw pack
120W adapter
EXPANSION SLOT
(1) M.2 2280 Type M key socket
(1) M.2 2230 Type E key socket

OS SUPPORT
Windows 10/11 64 bit O.S
Linux
REMARK
RS232 ports support 0/5/12V output. Voltage setting please refer to Quick Guide.

CPU Support List
12TH GENERATION INTEL CORE DESKTOP PROCESSOR FAMILY
Note: The Shuttle XPC slim Barebone DH670 does not support the Unlock-function of Intel K-Series processors.
P-Cores: Performance-Cores, E-Cores: Efficient-Cores
Core Clock: the listed core frequency ranges from Base Frequncy to Turbo Frequency (Turbo Boost 3.0 Frequency is not mentioned here)
Base TDF: Processor Base Power dissipation that the processor is validated to not exceed at Base Frequency (Max. Turbo Power is not mentioned here)
Please refer to the support list for detailed processor support information at global.shuttle.com.
| | | | | | | | | |
| --- | --- | --- | --- | --- | --- | --- | --- | --- |
| Processor | P-Cores/Threads | P-Cores Clock/Turbo | E-Cores | E-Cores Clock/Turbo | Smart Cache | Base TDP | Memory Support | Graphics Engine (Max. Clock) |
| i9-12900 | 8/16 | 2.4 – 5.0 GHz | 8 | 1.8 – 3.8 GHz | 30 MB | 65W | DDR4-3200 | UHD 770 (1.55 GHz) |
| i9-12900T | 8/16 | 1.4 – 4.8 GHz | 8 | 1.0 – 3.6 GHz | 30 MB | 35W | DDR4-3200 | UHD 770 (1.55 GHz) |
| i7-12700 | 8/16 | 2.1 – 4.9 GHz | 4 | 1.6 – 3.6 GHz | 25 MB | 65W | DDR4-3200 | UHD 770 (1.50 GHz) |
| i7-12700T | 8/16 | 1.4 – 4.6 GHz | 4 | 1.0 – 3.4 GHz | 25 MB | 35W | DDR4-3200 | UHD 770 (1.50 GHz) |
| i5-12600 | 6/12 | 3.3 – 4.8 GHz | – | – | 18 MB | 65W | DDR4-3200 | UHD 770 (1.45 GHz) |
| i5-12600T | 6/12 | 2.1 – 4.6 GHz | – | – | 18 MB | 35W | DDR4-3200 | UHD 770 (1.45 GHz) |
| i5-12500 | 6/12 | 3.0 – 4.6 GHz | – | – | 18 MB | 65W | DDR4-3200 | UHD 770 (1.45 GHz) |
| i5-12500T | 6/12 | 2.0 – 4.4 GHz | – | – | 18 MB | 35W | DDR4-3200 | UHD 770 (1.45 GHz) |
| i5-12400 | 6/12 | 2.5 – 4.4 GHz | – | – | 18 MB | 65W | DDR4-3200 | UHD 730 (1.45 GHz) |
| i5-12400T | 6/12 | 1.8 – 4.2 GHz | – | – | 18 MB | 35W | DDR4-3200 | UHD 730 (1.45 GHz) |
| i3-12300 | 4/8 | 3.5 – 4.4 GHz | – | – | 12 MB | 60W | DDR4-3200 | UHD 730 (1.45 GHz) |
| i3-12300T | 4/8 | 2.3 – 4.2 GHz | – | – | 12 MB | 35W | DDR4-3200 | UHD 730 (1.45 GHz) |
| i3-12100 | 4/8 | 3.3 – 4.3 GHz | – | – | 12 MB | 60W | DDR4-3200 | UHD 730 (1.45 GHz) |
| i3-12100T | 4/8 | 2.2 – 4.1 GHz | – | – | 12 MB | 35W | DDR4-3200 | UHD 730 (1.40 GHz) |
| Pentium Gold G7400 | 2/4 | 3.7 GHz | – | – | 6 MB | 46W | DDR4-3200 | UHD 710 (1.35 GHz) |
| Pentium Gold G7400T | 2/4 | 3.1 GHz | – | – | 6 MB | 35W | DDR4-3200 | UHD 710 (1.35 GHz) |
| Celeron G6900 | 2/2 | 3.4 GHz | – | – | 4 MB | 46W | DDR4-3200 | UHD 710 (1.30 GHz) |
| Celeron G6900T | 2/2 | 2.8 GHz | – | – | 4 MB | 35W | DDR4-3200 | UHD 710 (1.30 GHz) |